Remove your PF's money in just 3 days from Aadhar number, this is the easiest way
The Employee Provident Fund is an important form of EPA for people employed. This is like a retirement plan. In this, the benefit of investment is available in a long period. With withdrawal claims made during retirement, an Accumulated Provident Fund is available. Earlier, people used to transfer their funds when the job was changed. However, in the last few years, more applications were seen for the EPFO ​​record clearance. This is why the process of withdrawal has been made easier.
The Employees' Provident Fund Organization (EPFO) had simplified its withdrawal shortly before. Now it is easy to get your PF removed easily through online facility. This will have to go through a process. If your base is linked to the EPFO, the processing time is a total of 3-4 days. Preparing to make EPFO ​​settlement more quickly If this happens then money can be withdrawn within a few hours of applying. But, it is important that your PF account's KYC should be completed.
The information below must be given to the EPF member to process an online withdrawal claim.
What is the most important?
The EPFO ​​now issues a universal account number for the account holders. Once it is generated, it will not be inactive till the time when any job changes, do not withdraw money from PF. If this happens the new Universal Account Number is issued. This number must be activated. Member's mobile number should be registered in the UAN database.
Member base should be on the EPFO ​​website.
The bank details of the member should also be recorded in the UAN.
Member PAN should also be in the EPFO ​​database.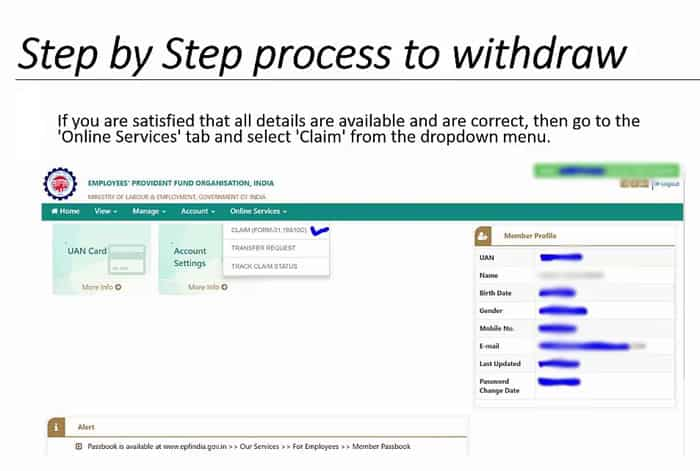 Where do I have to apply? 
Members of the EPFO ​​have to log on to e-service portal https: unifiedportal-mem.epfindia.gov.in.
What is the process of withdrawal?
After logging in, you must select from the base based online claim submission tab. After this the member has to verify his KYC details. The option can be selected from different options for withdrawal of the claim.
How will the process be completed?
One time password will be sent to the registered mobile number in your UIDAI database from EPFO. Once the OTP is entered, the claim form is submitted. This starts with the withdrawal process. After the claim process, the withdrawal amount is put in the registered bank account of the employee.
What should be kept meditation?
The EPFO ​​member does not have to go to his employer to use this online facility. But, he should have the company's establishment number
Keep in mind that the mobile number registered in the base database and your mobile number in the EPFO ​​should be same.
Source:- zeebiz
Share: